In-Stock Flooring
At Ruggs Benedict Carpet One Floor & Home, we know that customers value selection and quick installation when they're shopping for new floors. That's why we pride ourselves on our expansive in-stock flooring collection. The major benefit of choosing a product that we have in-stock at our store is that we can begin the installation process right away. There's no need to put in a special order and then wait for shipping to get started.
If you're interested in beautiful flooring, our Avon, CO showroom is the place to go. Our flooring experts will help you find the perfect product for your home or commercial business. While we encourage you to choose from our wide in-store selection, we're also able to order a large assortment of items upon request. However, we have ready-to-go products in virtually every flooring type that we carry, including hardwood, carpet, luxury vinyl, tile, and more, so you'll have a beautiful variety of choices to pick from. Our in-stock collection also includes commercial flooring, such as commercial carpet tiles. This is perfect for businesses and commercial property owners because it ensures a quick installation turnaround.
Contact us today or plan a visit to our Avon location for more information on our flooring products. Proudly serving Avon, Aspen, and the Vail Valley areas. You can also browse some of our most popular in-stock flooring choices below.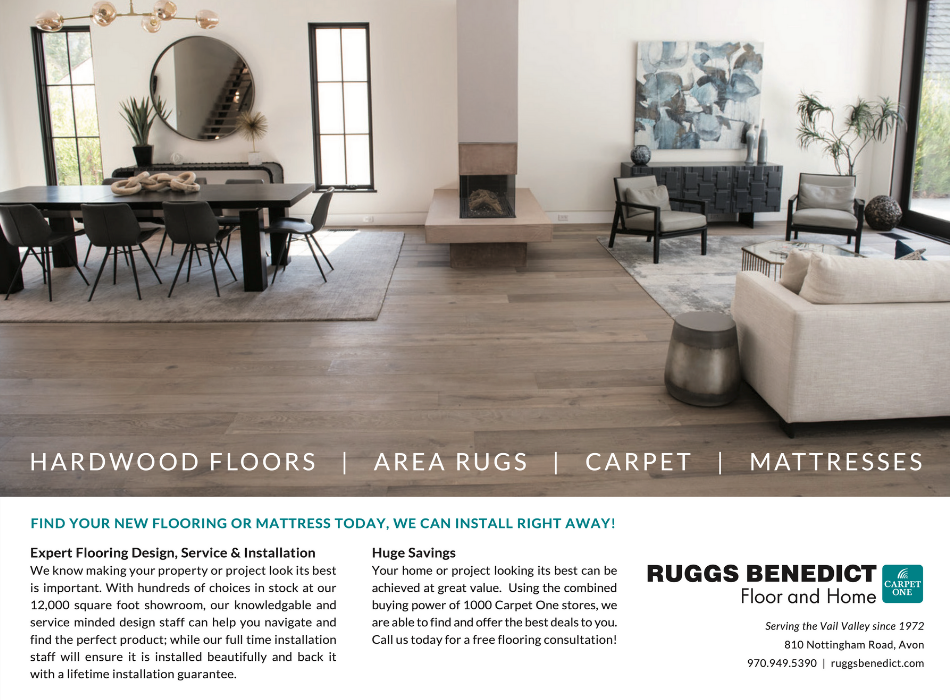 Carpet

We specialize in soft, durable carpets that feature stain,

tear, and moisture protected fibers. You're sure to

find a look you love as you browse our impressive

range of in-stock items and exclusive carpet brands.

Hardwood

Hardwood is one of the most popular flooring types

on the market and we have a gorgeous in-store selection. You can decide between solid, engineered, and a range of premium cuts, shades, and designs.

Area Rugs

We have a beautiful collection of in-stock area rugs that are

perfect for adding function and style to any home. You can choose from our many in-house designs, colors, patterns, and shapes.